In this past month's issue of ROOFING MAGAZINE, Peach State Roofing was proudly honored to be included in one of the top publications for the commercial roofing industry. The featured project was a large outdoor mall for Simon Property Group -Gaffney Premium Outlets.  Three of the five buildings in the complex were re-roofed by Peach State Roofing as a recover application to meet a set specification and all projects passed the manufacturer's roof inspection with excellent reviews. The manufacturer of choice on this project was selected by the owner as Firestone Building Products and a high density cover board was the insulation recovery board of choice. TPO in a 60 mil thickness and a 20 year warranty were chosen by the owner and overall the project was executed with great management.  The project was managed by senior project managers Anthony Wilkerson and Blake Wideman whom did an excellent job with daily reporting and communication with the real estate contacts.
Below is a brief exert from the article….
The Peach State Way……

Headquartered in Atlanta, Peach State Roofing Inc. has 15 branches and covers clients across the nation. The company specializes in commercial and industrial roofing, and excels at large-scale single-ply jobs. The goal of every branch is to provide the same level of service for clients no matter where they are in the country, as exemplified by a recent project at a large retail mall in South Carolina.

Peach State's Charlotte branch is located in Rock Hill, S.C. The company has re-roofed three of the five roofs at Gaffney Premium Outlets in Gaffney, S.C., including two roofs completed this year in just two weeks. Anthony Wilkerson, the branch manager, and Blake Wideman, strategic accounts, shared their insights on the project.

Peach State's Charlotte branch focuses primarily on re-roofing, service and maintenance work for existing customers and property managers. Most of the company's work involves TPO, EPDM and PVC, but crews have to be able to handle almost every type of system on the market. "If there is a hotel with some shingles or metal on it, we want to be…….
For reading the remainder of the article on the Gaffney Premium Outlets commercial roofing project please click the link below:
http://www.roofingmagazine.com/planning-and-teamwork-are-essential-in-tackling-retail-project/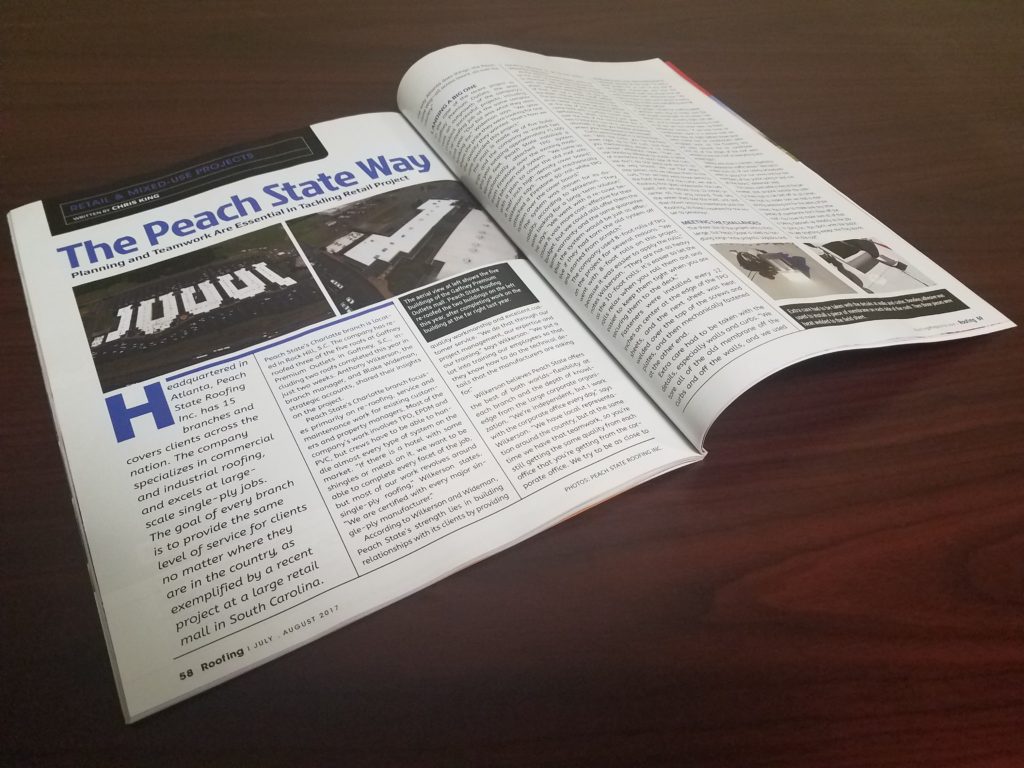 Peach State Roofing is a national commercial roofing contractor specializing in TPO, EPDM, and PVC roof systems as well as built up roofing and modified roofing repairs services. With 15 offices nationally, a local office is available to serve commercial real estate properties across the country. Check out our website locations page for more details.